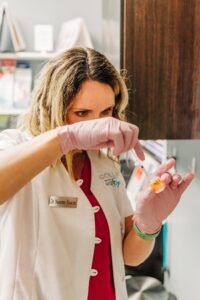 Brooks MediSpa is pleased to offer Bio-Identical Hormone Replacement Therapy, Medical Laser Services, Cosmetic and Medical Botox and Injectable Filler treatments.
Bio Identical Hormone Therapy (BHRT) is a method offered to patients looking to feel better. Our approach utilizes hormones that are created to support our entire system at the hormonal level. These levels change throughout our lives and our goal is to help you navigate your way through the transition feeling your best.
Our Botox treatments follow the most current protocols to achieve the most effective results for your personal needs whether that be medical or cosmetic.
We are passionate about providing the most natural appearance for her patients with their injectable choices through the application of Juvederm, one of the foremost injectable filler products in today's market. Our staff are trained to inject following the MD Codes protocol; this world renowned, advanced training is offered by invitation only.
Frequently the best results will be through a combined approach, please contact us at 403-793-2220 for a free consultation to see how you may freshen up your look or improve your physical health.